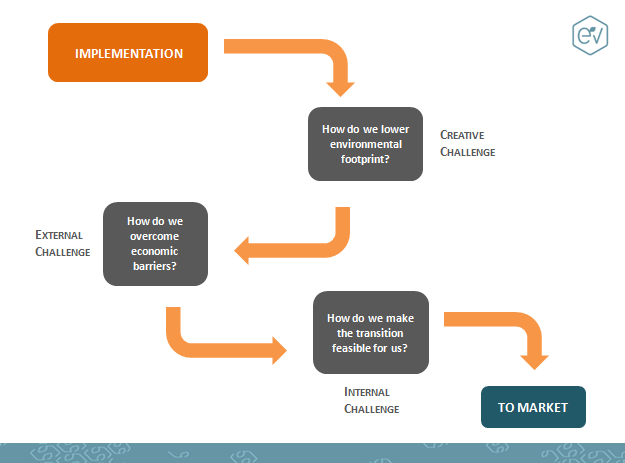 NWSI was conceived to help companies innovate effectively by focusing on the critical pieces of market implementation of new technologies -- the innovation process and the parties involved.
About the Project
The ability to innovate sustainably is a highly-prized skill for companies who are seeking to lower their environmental footprint (and to the regulatory agencies who wish to see this happen). A minority of established companies, however, innovate effectively. This poses a problem for major brands as they look to green their supply chains, maintain market share over time, comply with emerging regulations, and keep up with changing customer demands. I proposed Northwest Sustainable Innovation (NWSI) to a team of public and private stakeholders as an initiative to help established companies with the innovation process. We ultimately envisioned NWSI as a means of bridging the market divide between established Northwest companies and emerging start-ups to increase collaborative innovation between the two groups and to catalyze the adoption of sustainable technologies within established brands.
findings
This project completed a one-year research and validation phase with the NWSI stakeholder group. My findings below were informed by the input of the NWSI stakeholder group and individual company interviews:
Brands prefer to outsource innovation from the start-up community (i.e. they prefer to buy sustainable innovation solutions from start-ups or to acquire start-ups that generate sustainable innovation). However, brands have not been very successful in increasing their innovation rates through this process. This is because it is difficult for start-ups to scale production to a level that could service established brands.

Most brands do not have the know-how to bring innovation into the marketplace on their own. This is an additional incentive for them to look to the start-up community for sustainable solutions. Unfortunately, start-ups frequently lack the manufacturing facilities and resources to move forward with successful market implementation.

Existing suppliers to major brands have the equipment and infrastructure necessary to scale production, but generally do not have the motivation and/or know-how to innovate on their own.

Facilitating direct or indirect manufacturing partnerships between emerging innovative companies and existing suppliers to major brands could overcome these obstacles.

Developing closer relationships between established brands and start-ups would be beneficial in the following ways:

Provide start-ups access to their customer base to inform product development;

Build trust and credibility between start-ups and brands;

Create champions for start-ups when it is time to approach third-parties for funding and other resources;

Help start-ups gain access to the brands' suppliers / the supply-chain; and

Open the doors of opportunity to future collaborative innovation projects.

Expecting brands and start-ups to work together in cross-functional teams to implement sustainable innovation is a challenging proposition. This is because corporate managers at most brands have very little bandwidth for the innovation process if it is not already incorporated into their modus operandi, and generally prefer to rely on outsourcing from the start-up community to gain access to sustainable innovation.

Industry associations can be a gateway for engaging established companies on the topic of sustainable innovation; however, this is limited to conversations within the "pre-competitive space" – i.e. a space where competitors are willing to share information with their peers about collective industry challenges.

To get beyond the pre-competitive space, there must be formalized collaborative innovation agreements between brands--e.g. joint ventures, collaborative purchasing agreements, etc.

An organization such as NWSI could bridge the gap between established brands and innovative start-ups, catalyze collaborative innovation agreements and support the implementation of sustainable technologies in the marketplace.
about the Research, Discovery & ideation
My Motivations
Through the course of my work at EcoValuate, I heard many companies describe how difficult it is to innovate and implement sustainability into their products. At a superficial level, the barriers they described were lack of feasible alternatives from a technical and financial perspective. Upon further investigation, it turned out that the technologies they needed already exist and the financial barriers can be overcome. The barriers appeared to be related to team dynamics and lack of process. Fascinated by these findings, I gathered a team of stakeholders from the public and private sectors to collectively consider this issue. I also researched and prototyped the ideas we considered.
Initial Research Focus
My initial research for this project focused on two major questions: 1) What are the true barriers to implementation of sustainable technologies? And 2) How can we increase the rate of implementation of sustainable technologies? I spoke with companies large and small with a variety of experiences and success rates. I also spoke with individuals who had worked on innovation in an R&D capacity and had experienced both extremes--very low rates of adoption and very high rates of adoption of innovation during their careers. I brought my research insights to our stakeholder group.
Ideation for NWSI
Based on our stakeholder group discussions, I developed a proposed list of services NWSI could offer to its potential "customers"-- i.e. established companies and our target industries. For each service, I identified the assumptions underlying our ideas that would need validation with our customer base.
Prototyping the Sustainable Innovation Process
We developed a mission statement for NWSI that was focused on the goal of providing matchmaking & facilitation services to bridge the gap between existing companies and start-ups. We hypothesized that by supporting an effective working relationship between these two groups, we could catalyze implementation of sustainable technologies at scale.
I wanted to understand the sustainable innovation process to inform our thinking. Drawing upon research and interviews, I developed a prototype of a successful innovation process, including the discussion topics for each step along the way and the functional team members who would need to participate in the process.
Opportunities in Oregon and Washington
I came up with some preliminary ideas for engaging with industry based upon some of the projects and opportunities that interested the NWSI stakeholder group members for Oregon and Washington. The newly-completed Emerald Corridor Green Chemistry & Engineering Roadmap 2018-2023 serves as further guidance for opportunities in the region.